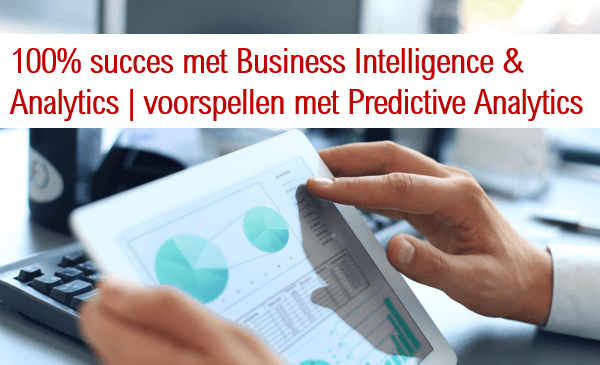 BI & analytics: een multidisciplinair vakgebied
Als manager, student of consultant wil je weten wat Business Intelligence & Analytics is, hoe het bedrijfsmatig in te zetten en welke voordelen het heeft. Maar er zijn veel meer vragen rondom het thema te stellen, juist omdat het een multidisciplinair vakgebied is:
Welke definities zijn er van Business Intelligence en welke visie op BI kun je daaruit ontwikkelen?
Hoe bereik je succes met BI & Analytics, wat zijn de grootste risico's en de diepste valkuilen?
Wat is een datawarehouse, wat is een data lake en wat zijn nu de belangrijkste verschillen?
Hoe zet je een team op met de juiste competenties en skills? Welke opleidingen zijn dan van belang?
Welke BI tools zijn er op de markt beschikbaar en hoe moet je de leveranciers positioneren? Hoe kies je het beste BI-platform dat past in jullie situatie?
Hoe zet je een toekomstbestendige architectuur op voor Business Intelligence & data analytics? Welke type datamodellen zijn er?
Op welke KPI's ga je jouw organisatie sturen en hoe krijg je jouw mensen aan het 'continu verbeteren' met data?
Hoe ga je voorspellende modellen en predictive analytics ontwerpen en met succes implementeren? Welke type algoritmen zijn er en waar moet je op letten?
Wat is de relatie tussen BI, performance management en Balanced scorecards?
Welke best practices zijn er in dit vakgebied, welke organisaties zijn erg succesvol met Business Intelligence & analytics?
Spelen een of meer van deze vragen ook door jouw hoofd? Dan is het tijd om je verder te verdiepen in dit prachtige vakgebied, vormgegeven door de thought leaders in Business Analytics & data science.
Definitie van BI
In de definitie van Business Intelligence onderscheiden we drie aspecten:
Definitie van Business Intelligence als proces: Business Intelligence is het continue proces waarmee organisaties op gerichte wijze data verzamelen en registreren, analyseren en de daaruit resulterende informatie en kennis in besluitvormingsprocessen toepassen om de prestaties van de organisatie te verbeteren.
Definitie van Business Intelligence als technologie: Business Intelligence is de verzameling van ICT-hulpmiddelen die BI als proces in organisaties ondersteunt, efficiënt maakt en het een gezicht geeft.
Definitie van Business Intelligence als fenomeen of discipline: Business Intelligence is het geheel aan concepten, processen, strategieën, cultuur, structuur, methodieken, standaarden en ICT-hulpmiddelen die er voor zorgen dat organisaties zich intelligenter kunnen gedragen en ontwikkelen.
Bron: De intelligente organisatie: continu verbeteren en innoveren met BI & Big Data (6e druk)
De succesfactoren en valkuilen van Business Intelligence
Uit landelijk onderzoek uitgevoerd door onafhankelijk consultingbedrijf Passionned Group blijkt dat bijna alle succesfactoren nauwelijks iets met techniek te maken hebben. Het succes van BI hangt in grote mate samen met:
BI & data science de juiste rol toekennen in jouw organisatie: hoe meer je het kan inbedden in het dagelijkse bedrijfsproces, hoe meer opbrengsten het gaat opleveren.
Regelmatig evalueren en bijstellen van normen en targets: zonder KPI's en doelen is BI gedoemd te mislukken.
Informatie consequent gebruiken voor analyse en actie: dit lijkt een open deur, maar uit onderzoek blijkt dat slechts 30% van de organisaties dit ook daadwerkelijk doet. Datagedreven werken gaat blijkbaar dus niet vanzelf!
Met elkaar de scores op de KPI's bespreken, zowel positief als negatief. De onderlinge dialoog en het geven en ontvangen van feedback zijn daarbij cruciaal.
Rolgebaseerde toegang tot de KPI-dashboards, rapportages en managementinformatie: medewerkers zien na het inloggen direct de voor hen relevante informatie.
Succesvol zijn met Business Intelligence kan alleen maar wanneer het in het teken staat van continu verbeteren en innoveren. Lees verder in de whitepaper 'De 7 grootste valkuilen in Business Intelligence'.
Kies je voor een datawarehouse of een data lake?
Waar sla je de data op voor BI & data science? De bronsystemen zijn daar niet geschikt voor, dus je moet de data daar weghalen en overhevelen naar een andere plek in het IT-landschap. Er zijn in principe twee mogelijkheden:
Gestructureerde bedrijfsdata sla je op in een datawarehouse – in zogeheten feittabellen en dimensietabellen. Wanneer de data qua volume te groot wordt, en het niet meer past in een relationele database, dan sla je het op in het data lake.
Ongestructureerde data zoals foto's, video's, logfiles, e-mails, social media data en sensorische data sla je op in een data lake. Deze type data noemen we ook wel Big Data.
De afwegingen die organisaties maken bij de keuzes in het ontwerpen van een business intelligence architectuur zijn cruciaal. Veel datawarehouses zijn weliswaar precies volgens 'het boekje' ontworpen, maar het gebruik stagneert en het rendement blijft achter. Een Ferrari bouwen terwijl er geen goede coureurs zijn is erg riskant.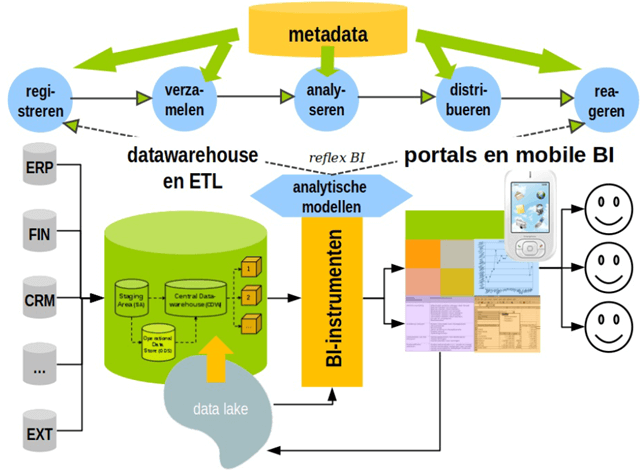 Figuur 1: de positie van het datawarehouse en data lake in de BI-architectuur
Hoe bouw je een goed geolied Business Intelligence team?
Hoe bouw je een goed BI-team en wat is de samenstelling ervan? Je kunt denken aan de volgende rollen:
Daarnaast heb je waarschijnlijk ook ETL-ontwikkelaars nodig en ontwikkelaars voor BI-tools, zoals SAS, Tableau en Power BI.
Welke Business Intelligence opleidingen volgen?
Wil je je bekwamen in Business Intelligence management, Big Data, Datawarehousing of jouw consultancyvaardigheden verder ontwikkelen? Hier volgt een overzicht van relevante opleidingen.
Vergelijk de belangrijkste Business Intelligence tools
Grote onderzoeksbureaus zoals Gartner en Forrester zijn vooral goed in het voorspellen waar de markt voor BI-tooling naar toe gaat en proberen de belangrijkste trends te benoemen. In de survey van de Passionned Group wordt factbased gekeken naar de functionaliteiten van de diverse BI-oplossingen. Elk jaar wordt de survey bijgewerkt en het is een 100% leveranciersonafhankelijk onderzoek. De tools worden onderling vergeleken op 197 criteria en zijn beschreven in het Business Intelligence Tools Survey Report 2018.
Investeer in KPI's en Business Analytics
Starten met Business Analytics zonder te weten waarop te sturen is riskant. Straks heb je een datawarehouse dat niet wordt gebruikt voor sturing en dat kan echt niet de bedoeling zijn. Het doel van BI is immers om betere beslissingen te nemen en beslissers inzicht te geven in de belangrijkste key performance indicators, idealiter gepresenteerd op een overzichtelijk dashboard. De belangrijkste KPI's vinden voor jouw organisatie kan met:
De strategiegedreven methodiek
De procesgedreven methodiek
De datagedreven methodiek
De marktgedreven methodiek
Elke methodiek kent voor- en nadelen. De SMART KPI-bepaler van de Passionned Group is een handig hulpmiddel om alle KPI's en meetwaarden in de organisatie snel te vinden. Met KPI's begeeft Business Analytics zich op het terrein van performance management en balanced scorecarding. Dit zijn specialistische vakgebieden waar diepgaande kennis van gedrag, cultuur en business control nodig is. De doorsnee BI'er zal hier een behoorlijke kluif aan hebben.
Voorspellen met Predictive Analytics
Waar traditionele organisaties Business Intelligence nog vaak inzetten voor verantwoording en compliance (de achteruitkijkspiegel) zullen intelligente organisaties BI vooral inzetten om te voorspellen: predictive analytics. Tegenwoordig zijn algoritmen zo goed dat ze experts verslaan. Zo kunnen Bach-experts niet meer het verschil horen tussen een door Bach zelf gecomponeerd stuk en een door de computer gecomponeerd muziekstuk.
Er bestaan verschillende analysemethodes voor Predictive Analytics:
Elke methode heeft een eigen karakteristiek die het in bepaalde situaties toepasbaar maakt. In alle gevallen dien je echter veel aandacht te besteden aan de kwaliteit van de data. Want juist met grote hoeveelheden data (big data) of voorspellen met data is de impact van slechte datakwaliteit erg groot.
Best practices in Business Intelligence
De Dutch BI & Data Science Award bestaat al sinds 2005 en wordt om het jaar uitgereikt aan de slimste organisatie van Nederland. Een onafhankelijke jury toets de inzendingen en kijkt naar de volwassenheid van hun BI & Analytics. De winnaars van de afgelopen jaren laten zien hoe slim die organisaties omgaan met data en Business Intelligence inzetten voor continu verbeteren en innovatie:
Wat hebben deze best practices gemeen? Ze zetten data consequent in om het beter te doen voor hun klant, beter te doen dan gisteren en beter te doen dan de concurrent. En dan heb je leiders met lef nodig die de wil uitspreken om dat ook waar te maken.
Zoek de verdieping
Ook Business Intelligence die succesvol is?
Neem dan contact op met de specialisten in BI & analytics voor een vrijblijvend kennismakingsgesprek. Onze door de wol geverfde experts helpen je graag bij het succesvoller maken van jouw data science en Business analytics.