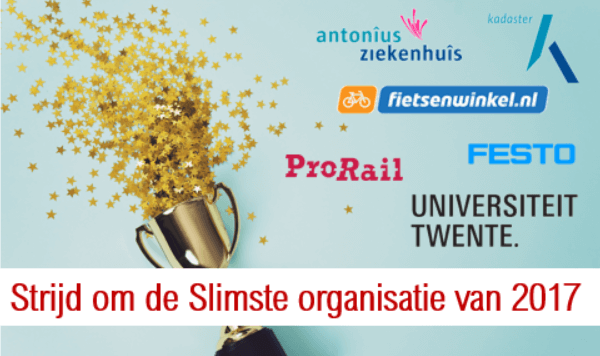 De jury van de Dutch Business Intelligence Award heeft zes organisaties geselecteerd die in aanmerking komen voor de titel Slimste Organisatie van Nederland 2017 en daarvoor auditie mogen doen. Dat zijn spoorbeheerder ProRail, leverancier van industriële apparatuur Festo, Universiteit Twente, het Kadaster, Antonius Ziekenhuis Sneek-Emmeloord en International Bike Group (fietsenwinkel.nl).
Besloten auditie op 9 oktober a.s.
De selectie voor deze prestigieuze prijs begon met een zogenoemde organisatie-IQ-test die door de kandidaten moest worden ingevuld en een motivatie. Uit enkele tientallen aanmeldingen selecteerde de onafhankelijke vakjury de zes organisaties die worden uitgenodigd voor een besloten auditie op maandag 9 oktober in Amersfoort.
Strijd om de Slimste organisatie van Nederland
De jury zal na deze auditie drie finalisten selecteren die onderling zullen strijden om de titel Slimste Organisatie van Nederland tijdens het congres 'Intelligence at the speed of Business' op 7 december in Nieuwegein. De drie finalisten zullen op dit congres proberen het publiek en vooral de jury te overtuigen dat ze recht hebben op de Business Intelligence Award 2017.
Eerdere winnaars
De Dutch Business Intelligence Award wordt al sinds 2004 uitgereikt. Eerdere winnaars waren onder meer KPN Mobiel (2005), Ahold (2008), Diakonessenhuis (2009), Coolblue (2012), Brandweer Amsterdam-Amstelland (2013) en Veiligheidsregio NHN (2015).
Erkenning voor slimme, datagedreven organisaties
De prijs is een initiatief van de Passionned Group en is bedoeld als een erkenning voor organisaties die hun informatiehuishouding op een zeer innovatieve, slimme en opvallende manier hebben ingericht. De winnaar mag zich de 'Slimste organisatie van Nederland' noemen.
Over Passionned Group
Passionned Group is sinds 2004 specialist in het ontwerpen en implementeren van intelligente organisaties. Het is een onafhankelijk adviesbureau op het gebied van datagedreven werken, datascience, big data en business intelligence. Ruim 25 'slimmer-werken-adviseurs' helpen grote en kleine organisaties bij het kantelen naar een intelligente organisatie. Daarnaast is er de Passionned Academy met verschillende praktijkgerichte opleidingen en workshops en een kennisbank met diverse onderzoeken, boeken, artikelen en whitepapers.