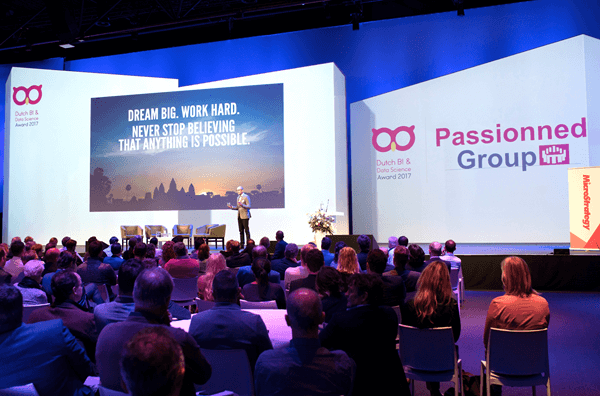 Op donderdag 7 december 2017, op het Jaarcongres 'Intelligence at the speed of Business' bieden wij jou een unieke kans om een kijkje achter de schermen te nemen bij de drie allerslimste organisaties van 2017: ProRail, Fietsenwinkel.nl en het Kadaster.
Leer op welke BI-terreinen je succes kunt boeken
Wie neemt goede beslissingen aan de lopende band?
Wie geeft met zijn informatiehuishouding de concurrentie het nakijken?
Wie heeft een heel nieuw businessmodel ontwikkeld rond data?
Wie zet data consequent in voor continu verbeteren?
Beleef een zeer interessante en leerzame middag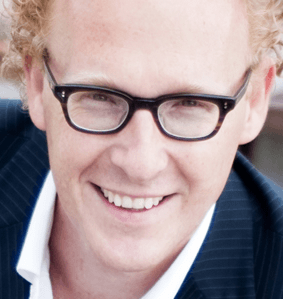 Met Rens de Jong, presentator bij BNR/RTL-Z, als dagvoorzitter en Rob Brakenhoff die een keynote geeft over het datagedreven Sandd. Maar ook dankzij drie topkandidaten voor de Dutch BI & Data Science Award 2017, een prikkelend debat over analytics & data science, Predictive Policing en de impact van Big Data op de samenleving en de georganiseerde criminaliteit, belooft het een zeer interessante en leerzame middag te worden.
Drie topkandidaten: KPI's + Advanced Analytics + Leiderschap
Je komt tijdens deze bijeenkomst veel te weten over deze drie allerslimste organisaties. Zij hebben ondermeer dankzij Big Data, Business Intelligence, Analytics en KPI's belangrijke veranderingen doorgevoerd in het managen van informatiestromen, processen en prestaties. Zij wisten doortastend een slimme en wendbare organisatie neer te zetten. Gedreven door betrouwbare informatie, gebaseerd op lokaal ondernemerschap, teamgeest en vooruitstrevend leiderschap.
Continu leren dankzij Big Data & Analytics
Veel organisaties maken nog onvoldoende gebruik van de schat aan data die voorhanden is. Maar 'Big data' wordt Big Business wanneer je weet hoe je die slim kan verwerken tot waardevolle inzichten. Hoe kun je in de aanval gaan en de markt voorblijven? En leren om het gedrag van jouw klanten te voorspellen? Kun jij Analytics, Data Science en Data Lakes met succes toevoegen aan het instrumentarium van Business Intelligence?
Locatie:
Datum:
Tijd:
NBC Nieuwegein (Grand Hall)
donderdag 7 december 2017
16h – 20h, je vertrekt voor en na de files
Het programma
15.00 Welkom en registratie
16.00 Opening door dagvoorzitter Rens de Jong (BNR)
16.10 Keynote door Rob Brakenhoff, CEO Sandd, over:
Verantwoordelijkheden en bevoegdheden zo laag mogelijk in de organisatie leggen: minder bureaucratie, betere data en meer eigenaarschap
168 uur vrij in te delen werkweek versus 40 uur aanwezigheidsplicht
Focus op de business, randverschijnselen uitbesteden, of overlaten aan de mensen zelf
Het organiseren van 'interne narren' die continu aan de boom schudden
Snel en alert zijn op technologische ontwikkelingen, netwerk van innovatieve partners, slim zijn is kennis benutten in plaats van zelf ontwikkelen
Dutch BI & Data Science Award: 3 slimme finalisten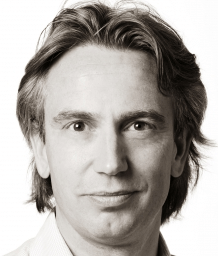 16.35 Juryvoorzitter Menno Lanting met uitleg over De Slimste organisatie van NL
De drie finalisten pitchen, waarom maken zij kans op de Dutch BI & Data Science Award 2017?
16.40 Finalist 1: pitch Kadaster + Q&A
Een klassieke organisatie met een klassiek product die Lean transformeert naar een modern platform voor geo-data.
De organisatie heeft een spilfunctie in een netwerk van allerlei instanties die van kaartdata afhankelijk zijn.
Ziet kans zeer up-to-date kaarten te publiceren, dan wel real time geografische informatie beschikbaar te stellen.
Helpt via gedetailleerde datasets overheden en bedrijven grip te behouden op hun omgeving.
Gebruikt moderne techniek om van een 2D-product nu een 3D-product te maken.
16.50 Finalist 2: pitch Fietsenwinkel.nl (IBG) + Q&A
Een jong team dat door intelligent gebruik van data een klassieke bedrijfstak verandert.
Het bedrijf gebruikt een overzichtelijk aantal scherpzinnige KPI's die aangeven of de business goed draait.
Door een sterke focus op data en online veroorzaakt de organisatie disruptie in een bestaande branche en ziet kans heel snel te groeien.
Op basis van KPI's kunnen via feedback-mechanismen ook automatisch stuurbeslissingen worden genereerd of voorgesteld.
Alle processen zijn in kaart gebracht en worden gestuurd met Business Analytics.
17.00 Finalist 3: pitch ProRail + Q&A
Door datagedreven aan preventie te werken wordt een steeds grote beschikbaarheid van het spoorwegnet gerealiseerd.
Organisatiebreed wordt denkkracht ingeschakeld om predictive analytics operationeel te maken.
Het is een complexe organisatie met tal van processen die bij een eventueel falen forse consequenties hebben.
Een enorme hoeveelheid interessante data wordt ingezet om de reiziger beter van dienst te zijn.
De organisatie ontwikkelt zich met data tot een onmisbare speler bij de optimalisatie van het spoorgebruik.
Interactief paneldebat o.l.v. Rens de Jong (BNR/RTL-Z)
17.10 Stelling: 'Datagedreven beslissingen zijn per definitie beter. Leidinggevenden die datagedreven werken niet omarmen worden binnen enkele jaren vervangen door leiders die dat wel doen.'
Als je dit niet omarmt, dan raak je morgen achter en voor je het weet, ben je weg.
Welk verschil gaat data maken in concurrentievoordeel? Hoe gaat data het verschil maken?
Is de cultuur ernaar om dit echt in te voeren?
Hoe voer je dat in? En wat zijn de grootste hobbels?
En heb je een burning platform om ervoor te zorgen dat je ECHT gaat veranderen!
Met: Daniel Bos MSc, Director of Data Analytics (Takeaway.com), Hans Slaghuis, Manager Business Intelligence (Fontys Hogescholen), Jacqueline Wolter, Zorgmanager/teamleider BI (GGZ Oost Brabant) en drs. Mark de Kort, Executive Partner Datagedreven werken (Passionned Group).
17.40 Keynote door René Melchers (Politie eenheid Amsterdam), landelijk projectleider Predictive Policing over:
Predictive policing: op basis van big data zo nauwkeurig mogelijk voorspellen waar criminaliteit zoals woninginbraken, zakkenrollerij, diefstal of geweld zal plaatsvinden. H

et 

Criminaliteits Anticipatie Systeem (CAS) speelt daarbij een belangrijke rol.

De impact die het gebruik van big data heeft op de interne organisatie bij de politie, op de samenleving (onder andere privacy), maar ook op de (georganiseerde) criminaliteit, want die zit niet stil.
Nederland is het eerste land ter wereld dat het CAS landelijk gaat invoeren.
Award ceremony
18.05 Bekendmaking Slimste Organisatie van 2017 en overhandiging Dutch BI & Data Science Award
18.15 Uitgebreide netwerkborrel met luxe hapjes en drankjes
20.00 Afsluiting
Een niet te missen congres. In korte tijd maak je kennis met de belangrijkste 'ins and outs' en succesfactoren van BI, Data Science & Analytics. Deelnemers ontvangen kosteloos het nieuwste boek van Menno Lanting 'De disruptieparadox'
Dit evenement is kosteloos voor eindgebruikers